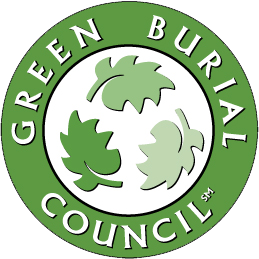 Mountain View Funeral Home, Memorial Park and Crematory is approved by the Green Burial Council, a non-profit organization, to offer a green burial package. For such arrangements, formaldehyde-based embalming is prohibited, as is the use of metal or hardwood caskets.
Caskets, coffins, or alternative containers used to enclose and transport your loved one are made of biodegradable materials and are available in a range of prices. Several options may be arranged within the limited time frame green burial allows. As with all of our service and merchandise offerings, detailed price information for each component is itemized on our General Price List.
Although formaldehyde-based embalming is prohibited, there are alternative embalming and preparation care options available. A funeral with a private family viewing can be arranged for an additional fee. Our green burial offerings can be provided within a green or conventional cemetery.
Whether your choice is burial or cremation, we are happy to show you the many ways you can make the ceremony special. You can also plan a ceremony in advance. We're here to make sure that your final wishes will be honored and respected the way you want.