Obituary for Larry Michael McBreen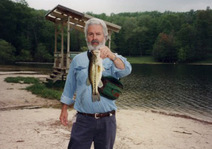 Larry Michael McBreen

A good man who led a simple life, but did so much in his own quiet way.

October 29, 1940 – February 7, 2012

He quietly stated, "I ain't signing nothin', see."

His best Edward G. Robinson was his only response when asked to sign the Power of Attorney.

His attempt at humor.

This was many months ago. The guy impersonating Edward G. Robinson was my father, when asked to sign a form basically transferring authority to my mother, so she could handle all affairs. To make financial and health care decisions for someone who is incapacitated. It was a struggle, but he signed.

After being in and out of four hospitals, rehabilitation, a nursing home, and home hospice care my father is now gone.

Out of left field
In April he wasn't himself. Distant. Uncommunicative. Depressed, we thought. You see, there were no outward signs of his real condition.

Late one night in May he fell down the stairs and was rushed to the hospital. He had experienced a seizure and the scans revealed a mass.

The next day in the emergency room was one of the longest days of my life. And before we could truly grasp the severity of the situation, my father was in a second hospital awaiting brain surgery.

He beat prostate cancer, but now had something entirely different. After surgery, the neurosurgeons told us he had six months to a year. The past nine months have been less than stellar.

My mom is all too familiar with hospitals, emergency rooms, rehabilitation, nursing homes and hospice. But after all this, my father is finally at peace.

Cancer. Radiation. Chemo. I don't know which is worse.

We wonder if he would have had a much better quality of life if we skipped all that.

They say hindsight is 20/20.

Second guessing, you know.

My mother has been the most dedicated person I've ever witnessed. At his side every step of the way. In each hospital, every day. In the nursing home, every day. Her love and dedication to my father was matchless.

Tears welled up often, but she would usually cry in private. You see, she didn't want to burden us. That's how she thinks. She thinks she's a burden. My mother is humble, loving and very, very strong. She's a wonderful person, really. Devoted and loving to the core.

My wife Mary Anne has done everything for my mother. From medical billing to living with my parents for weeks at a time, so I could work. It has been a long road and I can't imagine getting through this without her. She is a selfless person, my wife.

In fact, my mom and my wife are the two most devoted and magnanimous people I know.

A funny guy
The, "I ain't signing nothing, see" is my father's sense of humor. He never lost that. He often slipped out wise cracks about the nurses who smell good, my mother's nagging or why that woman down the hall just never shut up.

My father was a good man who led a simple life. A dedicated employee, great role model and affectionate in his own quiet way. He also had a bit of the quirky comedian in him. He created monikers for the neighbors: "Sweatpants," "Shorty," "Coach." He never called them by their names, ever.

Mr. Independent
Always inventive and self-reliant, he did everything himself, and I mean
everything. From car repairs to house projects. He was a mechanic, carpenter and electrician. A chef, handyman and inventor. A renaissance man that worked away in his own quiet space.

He always cut his own hair, made his own pasta and loved to cook. I'm surprised he didn't brew his own beer, for we all know he loved a malty beverage.

Inventive, curious and funny.

Quiet, considerate and generous.

An early riser and punctual to a fault.

He loved breakfast and always whistled in the morning. He really whistled all the time. I already miss these happy sounds.

Our situation isn't unusual. And many families have to deal with cancer, but the experience has changed me completely.

I never told my father I loved him until he was in that first hospital bed and I thought he was going to die. My father and I just didn't do that kind of thing, ever. I'm not sure why. It's just the way it was. We didn't have a close relationship, but we did. Do you know what I mean? Funny phrase, "I love you." We should say it more often. I know, pot meet kettle.

It's an age old cliché, but life is short. You come in alone. You go out alone. That time in between though, what we call life. I now see that in an entirely different light, now more than ever, … See.

Here's to a great guy.

Arrangements by Mountain View Funeral Home.