On June 21st and 22nd, Mountain View was honored to provide the vehicles to transport the US Honor Flag via police motorcade to Seattle, Federal Way, Lakewood and Tacoma for local ceremonies before finally delivering the flag to Gray Field at Joint Base Lewis McCord for departure to its next destination on a nation-wide tour.

The US Honor Flag was flown over Ground Zero after the events of September 11, 2001. The flag now travels the country in honor of those in Law Enforcement, Firefighting and Military Service that have died while serving our country (more details at www.ushonorflag.com). It has become a symbol of honor and pride to a nation, and Mountain View is extremely honored to have been selected to participate in bringing it to the residents of the Puget Sound region.
---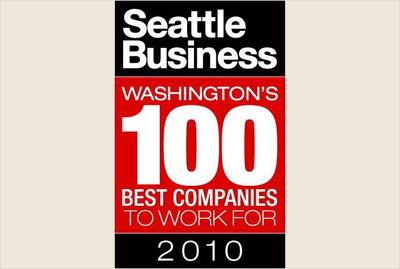 MOUNTAIN VIEW FUNERAL HOME NAMED AMONG BEST 100 COMPANIES

Mountain View has been named by Seattle Business magazine as one of Washington's 2010 "Best 100 Companies to Work For." Mountain View's inclusion "is evidence of the company's commitment to develop its human resources through improved communications, a cohesive culture and strong leadership, values that are core to developing a successful enterprise," says Leslie Helm, editor of Seattle Business magazine. Mountain View was ranked 39th in the Small Companies category. The list is found in the July 2010 issue of the magazine. Mountain View currently has 72 employees, whose input was the key factor in the selection.
---

Mountain View Funeral Home, Memorial Park & Crematory is constantly looking for new ways to make your family's remembrance more personal and meaningful. Ask your funeral director about new special events such as dove and balloon releases or talk to your cemetery counselor about the latest additions to our Memorial Park such as the fountain in the Garden of Serenity.